Gazprom today said in a statement it will buy this volume of Turkmen gas at a price of $100 per 1,000 cubic meters. Turkmenistan currently sells it gas to Russia at a price of $65 per 1,000 cubic meters.
Gazprom also said it would import an additional 12 billion cubic meters of Turkmen gas this year at the new price of $100 per 1,000 cubic meters.
Documents to that effect were signed in Ashgabat today during talks between Gazprom's chief executive, Aleksei Miller, and Turkmen President Saparmurat Niyazov.
Miller reportedly told Niyazov that Gazprom will remain Turkmenistan's "most reliable" gas business partner in the future.
Turkmen gas exports to Russia are traditionally re-exported to Ukraine and the South Caucasus.
(with Reuters)

Turkmenistan In The Middle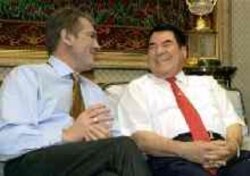 Turkmen President Saparmurat Niyazov (right) meeting with Ukrainian President Viktor Yushchenko in Ashgabat in March 2005

PLAYING BOTH SIDES: The Russian-Ukrainian gas dispute is testing Turkmenistan's self-declared policy of neutrality. Along with Russia, Turkmenistan is one of Ukraine's two biggest gas suppliers. Throughout the crisis, Ukraine suggested it could turn to Turkmenistan to make up any losses of Russian gas supplies. That puts Turkmenistan in a difficult position as it seeks to balance its relations with two capitals: Moscow and Kyiv...(more)
RELATED ARTICLES
Ukraine Signs Gas Deal With Turkmenistan
Kyiv Secures Turkmen Gas Supplies For 2006
Ukraine, Russia Spar Over Turkmen Gas
ARCHIVE
An archive of all of RFE/RL's coverage of Turkmenistan.