The New York-based organization says in a statement on its website that Iranian government officials claim Valiollah Feyz Mahdavi "committed suicide" in detainment the city of Karaj, near Tehran.

Mahdavi, 28, was on hunger strike to protest a decision to deny him access to lawyers. He had been arrested in 2001.
His death sentence on charges of armed resistance against the state had been commuted to life imprisonment earlier this year.

HRW says that Mahdavi is the second political prisoner to have died in an Iranian prison in the span of five weeks.
Former student leader Akbar Mohammadi died in Tehran's Evin prison in July under suspicious circumstances that brought heavy criticism from international rights groups.

HRW says the health and safety of Iran's political prisoners are "in grave danger" and calls for an urgent investigation into the deaths of Mahdavi and Mohammadi.
Activists had recently expressed concern for Mahdavi, following reports that he had been hospitalized.
U.S. Report On Global Human Rights
U.S. Report On Global Human Rights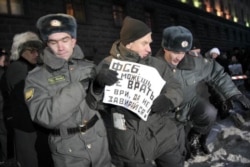 Police in Moscow arrest human rights demonstrators on February 1 (courtesy photo)
THE RECORD ON RIGHTS: On March 8, the U.S. State Department issued its global report on human rights. According to the report, 15 years after the breakup of the Soviet Union, human rights are improving in many post-communist countries. But problems persist in others, it says, despite the worldwide explosion of information and Western efforts to spread democracy. (more)
For more detailed information, see:
Azerbaijan Cited For Political Harassment, Police Brutality
Child Labor, Human Trafficking Cited In U.S. Report On Afghanistan
U.S. Says China, Iran 'Most Systematic' Rights Violators
Human Rights Not A Priority In Central Asia, U.S. Report Says
U.S. Report Points To Serious Abuses In Iraq
Abuses In Chechnya, Centralized Power Cited In U.S Report On Russia
U.S. Says Serious Human Rights Violations Occurring In Iran



SUBSCRIBE
For a regular review of civil-society developments throughout RFE/RL's broadcast region,
subscribe to "RFE/RL (Un)Civil Societies."