Russian Synagogue Attacker Sentenced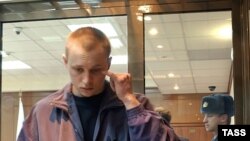 Aleksandr Koptsev in court in March (ITAR-TASS) September 15, 2006 -- Moscow's City Court has sentenced a Russian man to 16 years in prison for stabbing and injuring nine people at a Moscow synagogue in January.
The court found 21-year-old Aleksandr Koptsev guilty of attempted murder and inciting racial hatred.
The same court in March sentenced Koptsev to 13 years in prison for attempted murder, but dropped the charge against him of inciting racial hatred
Russia's Supreme Court ordered a retrial after both prosecutors and the defense appealed the sentence.
The court today said Koptsev would be held in a high-security prison and would undergo forced treatment for a mental disorder.
(ITAR-TASS, Interfax)