Uzbek Imam Sentenced To 17 Years In Prison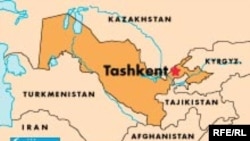 (RFE/RL) TASHKENT, September 15, 2006 (RFE/RL) -- A Tashkent regional court today sentenced a prominent imam to 17 years in prison on religious extremism and terror charges, RFE/RL's Uzbek Service reports.
Relatives say the trial of Ruhiddin Fakhriddinov took place behind closed doors in the town of Chirchiq, north of the Uzbek capital.

They say the defendant pleaded not guilty.

Fakhriddinov was arrested in southern Kazakhstan in November 2005. He had been evading arrest since 1998.

Uzbek authorities say he is a leader of the Islamic Movement of Uzbekistan, a banned armed religious group that opposes Central Asian governments.

Relatives deny Fakhriddinov has ever had any militant activity.