Kyrgyz President Demands Answers To Aksy Shooting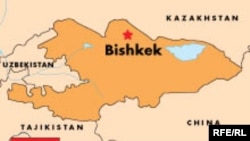 (RFE/RL) BISHKEK, September 18, 2006 (RFE/RL) -- Kyrgyzstan's President Kurmanbek Bakiev has asked investigators to quickly conclude a probe into an incident in 2002 in which police officers shoot dead six unarmed protesters in the southern town of Aksy.
Kongantiev's spokesman Toktogul Kakchekeev told RFE/RL's Kyrgyz Service that the probe will be completed "in December."
"It would be [unreasonable] to ask us to finish within one month or two weeks because the investigation has been going on at a slow pace for many years now," he said.
Six police officers and regional prosecutors were dismissed and charged over the Aksy shootings. They claimed they had received orders to fire on the protesters and were subsequently acquitted.
Bakiev promised to prosecute all those responsible for the shootings when he became president last year.
Bakiev was prime minister at the time of the Aksy incident.

RFE/RL Central Asia Report

SUBSCRIBE For regular news and analysis on all five Central Asian countries by e-mail,
subscribe to "RFE/RL Central Asia Report."