Ukrainian-Russian Gas Deal Days Away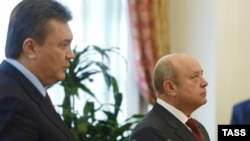 Ukrainian Prime Minister Viktor Yanukovych (left) with his Russian counterpart Mikhail Fradkov (ITAR-TASS) September 22, 2006 -- Ukrainian Prime Minister Viktor Yanukovych said today Ukraine and Russia will in the "coming days" agree a price for Russian gas for the final months of the year.
Ukraine pays $95 per 1,000 cubic meters of gas, and Yanukovych said Ukraine would seek to keep this price at least until the end of the year.
Yanukovych's comments followed talks with Russian Prime Minister Mikhail Fradkov in Moscow.
Interfax quotes the Russian prime minister as saying that the meeting took place in the "atmosphere favorable for finding mutually acceptable solutions."
Yanukovych met Russian President Vladimir Putin on September 21.
(ITAR-TASS, Interfax, Reuters)