MOSCOW, September 22, 2006 (RFE/RL) -- Chirac is due to host bilateral talks and a dinner with Putin at the Elysee Palace late today.
Moscow hopes the talks will result in France increasing its investment in Russia beyond the $905 million it invested in 2005.
On September 23, Chirac and Putin will join Merkel at the Compiegne Chateau, north of Paris, for three-way talks.
Tehran's nuclear program, in which all three countries play a key role, is one of the key items to be discussed.
World powers agreed on September 19 to hand Iran a new early October deadline to give up uranium enrichment before they seek sanctions under a United Nations resolution.
Seeking To Invest
Economic issues are also expected to take up much of the talks.
Yevgeny Volk, the director of the Heritage Foundation think tank in Moscow, says Russia appears determined to use its surging oil and gas revenues to gain a foothold in some of Europe's strategic industries.
Moscow's economic ambitions reach beyond energy into key industrial sectors -- a development that has met with anxiety abroad.
"Russia is using its huge resources, and the dependence of Western and Eastern Europe on its energy resources, as a lever to put political and economic influence on its neighbors," Volk says. "I think that this issue will top the agenda."
Russia's gas monopoly Gazprom has long expressed interest in expanding its operations to Europe, Asia, and the United States.
Putin and Merkel on Saturday are due to discuss a planned 1,200-kilometer pipeline that would pump Russian gas to Germany under the Baltic Sea.
The plan has drawn fierce criticism from Poland and the three Baltic states. They say the pipeline would deprive them of transit fees, and that it poses an environmental and security threat as well.
Grand Ambitions
Moscow's economic ambitions, however, reach beyond energy into key industrial sectors -- a development that has met with anxiety abroad.
Earlier this year, the Russian steel group Severstal attempted to purchase Europe's steel giant Arcelor. Severstal, however, lost out to a bid by India's Mittal Steel.
And this month, the Russian state-owned bank Vneshtorgbank acquired a 5-percent stake in the European Aeronautic Defense and Space Company, or EADS.
EADS, however, rejected Russia's proposal to raise its stake to a blocking minority of 25 percent.
Observers say Putin is likely to push for a seat on the EADS board at the September 23 summit.
But Aleksandr Velovich, a former aircraft designer with the Mikoyan Design Bureau, does not predict any breakthrough in Russia's favor.
"I think that Russian officials are deluding themselves. Russia's ambition to obtain a controlling stake is not backed by the capacity of the Russian market and by the current abilities of the Russian aviation industry," Velovich says. "Despite Europe's definite desire to cooperate with Russia's aviation industry, the price that Russia is asking for this cooperation is too high."
The rebuff by EADS is likely to have irritated Moscow, which recently sold a 10-percent stake in Russian aerospace giant Irkut to EADS.
Russia is also purchasing 22 jets from Airbus and another 22 aircraft from its U.S. rival Boeing.
Konstantin Kosachev, the chairman of the State Duma's foreign affairs committee, says Russia is waiting for Paris and Berlin to give "a signal to create equal conditions for investing in their economies."
Russia, he complains, is alone in "playing the game."
Afraid Of Sanctions?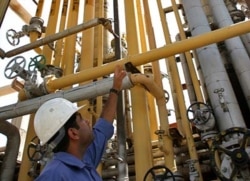 Comprehensive sanctions could further slow development in Iran's strategic oil and gas sectors (Fars)
WHAT DOES TEHRAN REALLY THINK? On August 22, Radio Farda correspondent Fatemeh Aman spoke with Alex Vatanka, Eurasia editor for Jane's Information Group, by telephone from Alexandria, Virginia. Vatanka discussed the possible impact that comprehensive sanctions could have for Iran.
Radio Farda: Some Iranian authorities are trying to create the impression that they aren't concerned about the possibility of international sanctions against it. They emphasize that what Iran has achieved so far has happened despite the sanctions already in place against it. Are they really not afraid of sanctions?
Vatanka: I think that what the Iranians are trying to do is to continue to play this balancing act. On the one hand, they are trying to say, "Look, we have done without you for 27 years; we can continue." On the other hand, if you look at every other major Iranian overture toward the U.S., obviously what they are hoping to do is remove those sanctions. It is the sanctions that have been the biggest obstacle to a genuine expansion in the Iranian economy. It is the sanctions and U.S. policies vis-a-vis Iran that have, for instance, kept Iran from joining the World Bank. It is sanctions and so on that have made the Iranian oil industry have such a tough time in bringing investment into the strategic oil and gas sectors. People like [former Iranian President Ali Akbar Hashemi-]Rafsanjani back in the mid 1990s even kept certain fields untouched because the idea was that U.S. companies should have those once the sanctions were lifted.
I think sanctions are quite important to the Iranians, but at the same time what they are trying to say is, "Don't assume that we are going to fall off our chair just because you mentioned the sanctions card." It is part of a kind diplomatic chess game going on by Tehran. But remember if we look and listen to Iranian reformists, this is being openly debated inside Iran. The question that is being asked of [President Mahmud Ahmadinejad and his entourage] is, "What is the ultimate objective?" Is it just Islamic independence? Is it just the ability to enrich uranium? The debate in Iran by the reformists -- and I think a lot of people would sympathize with this -- is, "What are we being sanctioned for exactly and what policies do you have to make sure that those sanctions don't hit us harder than we have already been hit?"
Remember, the big issue here is this: Iran has been sanctioned by the U.S. Iran has never faced comprehensive United Nations sanctions. The Iranian people have never suffered on a scale that the Iraqi people, for instance, suffered because of such sanctions. So it is kind of disingenuous of these senior leaders to pretend that Iran has already gone through comprehensive sanctions. Iran has not. And it will be totally different set of circumstances that will have a totally different impact on Iranian society and the economy, should the UN impose comprehensive sanctions on the country.


THE COMPLETE PICTURE: RFE/RL's complete coverage of controversy surrounding Iran's nuclear program.
CHRONOLOGY
An
annotated timeline
of Iran's nuclear program.