Foreign Minister Gela Bezhuashvili told reporters today that Putin had met the leaders of Abkhazia and South Ossetia, Sergei Bagapsh, and Eduard Kokoity, in Russia's Black Sea resort of Sochi on September 30.
A Kremlin spokesman declined to confirm or deny the information.
Abkhazia and South Ossetia broke away from Tbilisi in the early 1990s, although they remain unreconized.
In televised remarks today, Putin called the September 28 arrests in Georgia of four Russian military officers on espionage charges a sign of the legacy of Lavrenty Beria, an ethnic Georgian who oversaw the Soviet purges of the 1930s that killed millions.
"In spite of the fact that Russia is consistently fulfilling all the agreements we have on removing our armed forces from the territory of [Georgia], in spite of all this, as is known, our military officers were snatched and thrown in jail," Putin said. "This is a sign of the succession of Lavrenty Beria both inside the country and in the international arena."
"[Georgia's leaders] think that in being under the protection of their foreign sponsors, they can feel comfortable and safe," Putin added.
An EU statement says the bloc's foreign policy chief, Javier Solana, encouraged Georgian President Mikhail Saakashvili to find an early solution to the escalating row in a telephone conversation September 30.
Moscow has pulled out most of its diplomats from Tbilisi in protest and said it had temporarily suspended a pullout of its troops from two Russian bases in Georgia.
The presidents of Ukraine, Poland, and Lithuania have called for a diplomatic solution to the escalating row, as have the EU, NATO, and the United States.
(Reuters)
Russia And Georgia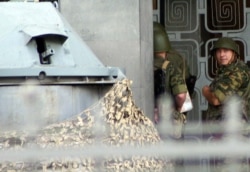 Beefed up security outside Russian military headquarters in Tbilisi on September 27 (InterPressNews)
NOT ALL WINE AND ROSES.
Moscow's relations with Tbilisi since the collapse of the Soviet Union have often been tense and strained. Among the issues that have made the relationship difficult are Moscow's alleged support for the breakaway Georgia regions of Abkhazia and South Ossetia, as well as the continued presence of Russia troops on Georgian territory. Periodically, Georgian lawmakers propose withdrawing from the Commonwealth of Independent States (CIS) altogether. RFE/RL has written extensively about the rocky relationship between these two countries.
RELATED ARTICLES
Saakashvili Seeks Meeting With Putin
Russian-Georgian Friendship Still Warm, Despite Frosty Politics
Georgia To Assess Repercussions Of Quitting CIS
Russia Impounds Georgian Mineral Water
Georgian Agriculture Minister In Moscow For Talks On Wine Ban
Russia Pledges To Complete Georgia Pullout On Schedule
ARCHIVE
RFE/RL's complete coverage of
Georgia
and
Russia
.