The group says almost 9,000 Iraqis per week are seeking safer lives elsewhere in the country.
The IOM says there are now around 190,000 internally displaced persons in central and southern Iraq. The IOM says they urgently need shelter and jobs but that aid is running low.
(AFP)
Sectarian Iraq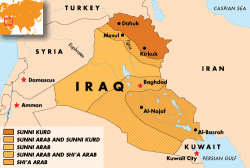 Click to enlarge the image.
SUNNI, SHI'A: Iraq is riven along sectarian lines, faults that frequently produce violent clashes and are a constant source of tension. Sectarian concerns drive much of Iraqi politics and are the main threat to the country's fragile security environment.


THE COMPLETE PICTURE: Click on the image to view RFE/RL's complete coverage of events in Iraq and that country's ongoing transition.