Iraqi Industry Minister Reportedly Survives Blasts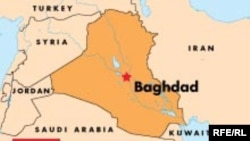 (RFE/RL) October 4, 2006 -- Iraqi Industry Minister Fawzi al-Hariri survived at least two bomb blasts in Baghdad today.
An unnamed ministry spokesperson said al-Hariri was not was not present when a convoy of the ministry's cars was attacked.
Police say at least nine people were killed in the attacks.
(AFP, Reuters)