The Civic Assistance (Grazhdanskoye Sodeistvie) nongovernmental organization reported on its website that the Tyumen regional court on October 6 overruled the extradition order issued by the Russian Prosecutor-General's Office.
The group says Yusupov was released in the courtroom after spending more than 13 months in Russian custody.
Yusupov was arrested in August 2005 on an arrest warrant issued by Tashkent. He is wanted in Uzbekistan on religious-extremism charges that he denies.
Civic Assistance says Russian migration authorities on October 4 denied Yusupov refugee status. The group says he intends to appeal the decision.
In related news, RFE/RL's Uzbek Service reports another Russian court a fews days ago released a second Uzbek detainee. The court in central Lipetsk Region cleared Rustam Muminov of all charges and ordered that he be freed.
The decision was reached in late September, but reported only today.
Muminov, whom Uzbek authorities accuse of ties with last year's antigovernment uprising in Andijon, was arrested in February 2006. He was also awaiting extradition while being detained in Russia.
Andijon Refugees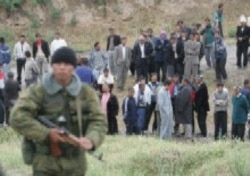 Uzbek refugees in Kyrgyzstan on May 19, 2005 (epa)


NO PLACE TO GO: More than 400 Uzbeks who fled in panic in the hours and days after troops opened fire on demonstrators in Andijon one year ago have been granted political asylum outside Central Asia. In limbo for weeks in Kyrgyzstan as they and the world tried to come to grips with the bloody events of May 12 and 13, they feared for their lives and the lives of family members as the official crackdown continued.... (more)
RELATED ARTICLES
Andijon Refugees In Romania Have Escaped Violence, But Not Heartache
Refugees In Romania Await Decision On Destination
Refugees Want To Return Only If Regime Changes


THE COMPLETE STORY: A dedicated webpage bringing together all of RFE/RL's coverage of the events in Andijon, Uzbekistan, in May 2005 and their continuing repercussions.
CHRONOLOGY
For an annotated timeline of the Andijon events and their repercussions, click here.