A remote-controlled bomb planted on a parked bicycle ripped apart a police
bus as it passed in a densely crowded neighborhood north of the city
center.
The explosion during the morning rush hour is the latest in an
increasing series of bombings, many of them suicide attacks.
In other news, the Paris-based media watchdog Reporters Without Borders in a statement issued on October 9 called upon the Afghan authorities to quickly investigate the killing of German journalists Karen Fischer and Christian Struwe.
The two reporters were shot dead while traveling north of Kabul on October 7. Afghan authorities say they have identified six people whom they want to question in connection with the killings.
(with AFP, Reuters, AP)
The Afghan Insurgency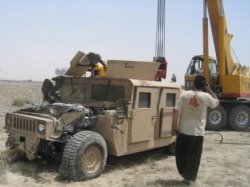 A U.S. military vehicle damaged by insurgents near Kandahar (epa)
HOMEGROWN OR IMPORTED? As attacks against Afghan and international forces continue relentlessly, RFE/RL hosted a briefing to discuss the nature of the Afghan insurgency. The discussion featured Marvin Weinbaum, professor emeritus of political science at the University of Illinois at Urbana-Champaign, and RFE/RL Afghanistan analyst Amin Tarzi.
LISTEN
Listen to the entire briefing (about 83 minutes):
Real Audio
Windows Media
ARCHIVE
RFE/RL's
coverage of Afghanistan
.
SUBSCRIBE
For weekly news and analysis on Afghanistan by e-mail,
subscribe to "RFE/RL Afghanistan Report."