Bishkek Protesters Target Obstacles To Press Freedom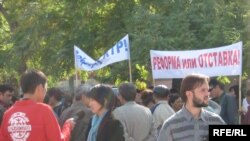 Protesters at the opposition-organized press-freedoms rally in Bishkek on 11 October (RFE/RL) October 11, 2006 (RFE/RL) -- Dozens of Kyrgyz civic rights campaigners, media representatives, and opposition activists are picketing the government's headquarters in Bishkek today in support of press freedom.
Among other demands, the protesters are calling for a probe into a recent
overnight attack
on Piramida, Kyrgyzstan's oldest independent television channel.
On September 28, four hooded attackers vandalized Piramida's headquarters on the outskirts of Bishkek, starting a fire that caused an estimated $200,000 in damages and forced the television channel to go off the air.
Prime Minister Feliks Kulov today promised the demonstrators to help Piramida resume operations as soon as possible.
Participants to today's picket also held a one-minute silence in memory of
slain
Russian journalist
Anna Politkovskaya
.
(RFE/RL's Kyrgyz Service, with 24.kg)