Nalchik Marks Anniversary Of Deadly Raid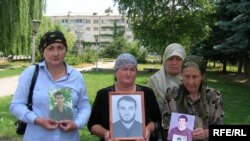 Relatives of some of those killed at a protest in June (RFE/RL) NALCHIK, October 13, 2006 (RFE/RL) -- The southern Russian city of Nalchik marked the first anniversary today of a militant raid last year in which close to 140 people were killed.
A small group of relatives of those killed rallied today in front of the Nalchik prosecutor's office, including the mother of Dzhambulat Nabitov and Azamat Nabitov, both of whom were killed on October 13, 2005.
Nabitova said they were protesting because the authorities "have not given us the bodies. We can't bury them."
She said "the authorities are saying the bodies are in safe keeping, but we don't know that for sure."
Militants with purported links to Chechen separatists raided army, police, and security structures in Nalchik. Among those killed were 35 security officers and more than 90 militants.
Authorities in Nalchik, the capital of the North Caucasus republic of Kabardino-Balkaria, have since launched a crackdown against local Muslims.

A slideshow look at the October 13-14 violence in Nalchik, capital of the Russian North Caucasus Republic of Kabardino-Balkaria.