UN Returns Serb Kosovo War Victims To Families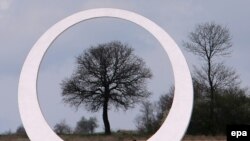 A monument to Kosovo Albanian guerrillas killed during the war (epa) October 13, 2006 -- UN authorities in Kosovo today returned the remains of nearly 30 Serbs killed in the province's conflict in 1998-99 to their relatives in Serbia.
To date, the bodies of 213 Serbs from Kosovo have been returned to their families. The fate of around 700 more is unknown.
According to the International Committee of the Red Cross, more than 2,200 people, mostly ethnic Albanians, are still listed as missing from the war.
(dpa, AFP)