Irina Lepyoshkina of the Interior Ministry told RFE/RL's Uzbek Service that Rustam Muminov was among some 500 foreign nationals currently held at a special facility for would-be deportees and that he may be sent back to Uzbekistan.
"Our center is designed for people facing deportation," she said. "Those who are sent here are deported, unless they fall under some article [of the criminal code]. We will check [Muminov]. We will take his fingerprints. If he did not commit any criminal offense [in Russia], we will deport him. If he did commit a criminal offence, we will transfer him [to higher Russian authorities]."
Lepyoshkina said Muminov was detained under a warrant arrest issued by a Moscow court.
On October 17, the nongovernmental group Moscow-based Civic Assistance (Grazhdanskoye Sodeistvie) said a uniformed policeman and a plainclothes security officer had come to their offices and taken Muminov away.
Muminov was first arrested in Russia's Lipetsk Oblast in February 2006 on an Uzbek warrant. Authorities in Tashkent want him in connection with last year's popular uprising in Andijon.
After a Lipetsk court last month cleared Muminov of all charges and ordered his release, he moved to Moscow.
Andijon Refugees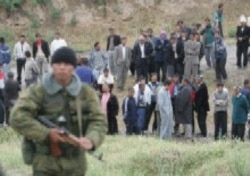 Uzbek refugees in Kyrgyzstan on May 19, 2005 (epa)


NO PLACE TO GO: More than 400 Uzbeks who fled in panic in the hours and days after troops opened fire on demonstrators in Andijon one year ago have been granted political asylum outside Central Asia. In limbo for weeks in Kyrgyzstan as they and the world tried to come to grips with the bloody events of May 12 and 13, they feared for their lives and the lives of family members as the official crackdown continued.... (more)
RELATED ARTICLES
Andijon Refugees In Romania Have Escaped Violence, But Not Heartache
Refugees In Romania Await Decision On Destination
Refugees Want To Return Only If Regime Changes


THE COMPLETE STORY: A dedicated webpage bringing together all of RFE/RL's coverage of the events in Andijon, Uzbekistan, in May 2005 and their continuing repercussions.
CHRONOLOGY
For an annotated timeline of the Andijon events and their repercussions, click here.