Karimov today appointed the mayor of the eastern city of Marghilan, Abduhoshim Abdullaev, to run the region of Ferghana.
Earlier in the day, RFE/RL's Uzbek Service reported that Karimov had traveled to the city of Ferghana to make the announcement before the regional parliament.
The reasons for the personnel change were not immediately clear.
The independent Uzmetronom website reported simply that the outgoing governor, Shermat Normatov, had fallen out of presidential favor.
Ferghana and neighboring Andijon lie in the extreme eastern part of Uzbekistan, in a region that borders Kyrgyzstan and Tajikistan. Ferghana Valley spans Uzbek, Tajik, and Kyrgyz territory and is regarded by Central Asian governments as a hotbed of religious fundamentalism.
Karimov fired
the head of the Andijon Region on October 13, blaming him for the popular uprising and ensuing crackdown that officially claimed 187 lives in May 2005. That dismissal appeared to signal a
possible reappraisal
of the official tack on the events of Andijon.
Officials at the time blamed foreign-backed religious extremists for the initial violence, although rights groups and residents have noted that social and economic woes made the region a powder keg.
Addressing Andijon lawmakers on October 13, Karimov accused Andijon Governor Saydullo Begaliev of ignoring the population's needs.
Rights groups also challenge the official account of events and accuse the government of ordering the killing of hundreds of unarmed civilians.
The United Nations and Western governments have urged Tashkent to allow independent investigators to explore the Andijon violence, but Karimov's administration has rejected the advice and courted closer ties to Moscow in response to Western pressure.
(press-service.uz, RFE/RL's Uzbek Service, uzmetronom.net)
Andijon Anniversary Conference
Andijon Anniversary Conference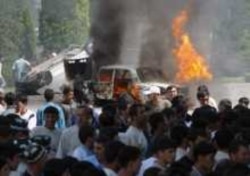 Violence in Andijon, Uzbekistan, on May 14, 2005 (epa)


TALKING ABOUT ANDIJON:
On May 9, 2006, RFE/RL, the National Endowment for Democracy, and U.S.-based human rights organizations cohosted a conference on the May 2005 events in Andijon and their aftermath in Uzbekistan and throughout the region. The first panel featured Andijon eyewitness
GALIMA BUKHARBAEVA
, National Endowment for Democracy Fellow
NOZIMA KAMALOVA
, RFE/RL Central Asia analyst
DANIEL KIMMAGE
, and others. The second panel featured presentations by U.S. Senator
JOHN MCCAIN
and U.S. Congressman
CHRISTOPHER SMITH
, who used the forum to announce they had introduced legislation calling for sanctions and other measures against the government of President Islam Karimov.
LISTEN
Listen to the Andijon conference. Part One (70 minutes):
Real Audio
Windows Media
Part Two (60 minutes):
Real Audio
Windows Media
The Uzbek government's response:
Real Audio
Windows Media


THE COMPLETE STORY: A dedicated webpage bringing together all of RFE/RL's coverage of the events in Andijon, Uzbekistan, in May 2005 and their continuing repercussions.
CHRONOLOGY
For an annotated timeline of the Andijon events and their repercussions, click here.