In his weekly radio address today, Bush attributed the growing violence in Iraq to more active operations by U.S. troops, as well as to a "sophisticated propaganda strategy" pursued by insurgents.
Bush said U.S. military commanders are "constantly adjusting" their approaches to deal with the insurgency, while emphasizing that the United States will stay the course.
"There is one thing we will not do," Bush said. "We will not pull our troops off the battlefield before the mission is complete. There are some in Washington who argue that retreating from Iraq would make us safer. I disagree. Retreating from Iraq would allow the terrorists to gain a new safe haven from which to launch new attacks on America."
Bush is holding talks today at the White House with key U.S. military officials to discuss the situation in Iraq.
Some 75 U.S. troops have been killed in Iraq this month amid an upsurge in violence.
The International Coalition In Iraq
The International Coalition In Iraq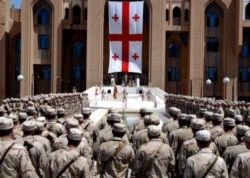 Georgian soldiers marking Georgian Independence Day in Baghdad on June 6 (epa)
COALITION MEMBERS: In addition to the United States, 28 countries are Multi-National Force-Iraq (MNF-I) contributors as of May 31, 2006: Albania, Armenia, Australia, Azerbaijan, Bosnia-Herzegovina, Bulgaria, the Czech Republic, Denmark, El Salvador, Estonia, Georgia, Italy, Japan, Kazakhstan, Latvia, Lithuania, Macedonia, Moldova, Mongolia, the Netherlands, Poland, Portugal, Romania, Singapore, Slovakia, South Korea, Ukraine, and the United Kingdom. Fiji is participating as part of the UN mission in Iraq. Hungary, Iceland, Slovenia, and Turkey are NATO countries supporting Iraqi stability operations but are not part of MNF-I.
NON-U.S. MILITARY PERSONNEL IN IRAQ: United Kingdom, 8,000 as of May 26, 2006; South Korea, 3,237 as of May 9, 2006; Italy, 2,900 as of April 27, 2006; Poland, 900 as of May 30, 2006; Australia, 900 as of March 28, 2006; Georgia, 900 as of March 24, 2006; Romania, 860 as of April 27, 2006; Japan, 600 as of May 30, 2006; Denmark, 530 as of May 23, 2006; All others, 1,140.
(Source: The Washington-based Brooking Institution's Iraq Index of June 15, 2006)


THE COMPLETE STORY: RFE/RL's complete coverage of events in Iraq and that country's ongoing transition.
RADIO FREE IRAQ: To visit the Arab-language website of RFE/RL's Radio Free Iraq, click here.