Mullah Omar's message, on the eve of the Eid al-Fitr holiday marking the end of Ramadan, was reportedly sent via electronic mail to Pakistan's NNI news agency. Mullah Omar's message also said he was confident the U.S.-led coaltion would be defeated just like the Soviets.
Meanwhile, NATO reported today its troops killed at least 15 insurgents in southern Afghanistan after the rebels attacked their convoy.
The NATO-led international Security Assistance Force (ISAF) said the attack came in the southern province of Zabul on October 21. No ISAF personnel were injured.
The ISAF soldiers in Afghanistan are trying to help the government establish stability against a resurgent Taliban militia.
In Kabul, the Afghan government and the United Nations appealed today for $43 million in international aid to respond to a severe drought and help families displaced by fighting in the country's south.
A UN statement said 1.9 million people will need food assistance, because of a shortfall in the wheat harvest. The appeal includes help for some 20,000 families displaced by fighting in Oruzgan, Helmand, and Kandahar provinces.
(dpa, AFP, AP)
The Afghan Insurgency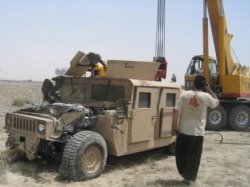 A U.S. military vehicle damaged by insurgents near Kandahar (epa)
HOMEGROWN OR IMPORTED? As attacks against Afghan and international forces continue relentlessly, RFE/RL hosted a briefing to discuss the nature of the Afghan insurgency. The discussion featured Marvin Weinbaum, professor emeritus of political science at the University of Illinois at Urbana-Champaign, and RFE/RL Afghanistan analyst Amin Tarzi.
LISTEN
Listen to the entire briefing (about 83 minutes):
Real Audio
Windows Media
ARCHIVE
RFE/RL's
coverage of Afghanistan
.
SUBSCRIBE
For weekly news and analysis on Afghanistan by e-mail,
subscribe to "RFE/RL Afghanistan Report."