Dozens Die In Russian Alcohol-Poisoning Outbreak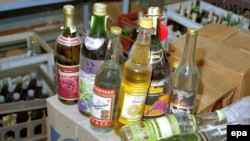 Bootleg alcohol seized in Volgograd last month (epa) October 26, 2006 -- Russia's northwestern region of Pskov has declared a health emergency after tainted alcohol killed 15 people and sent more than 400 others to the hospital.
In other cases of alcohol poisoning, 18 people have died in Irkutsk Oblast in Siberia in the past few days and 21 in the Urals town of Kirov.
Thousands of people die in Russia every year from excessive drinking or from drinking bootleg alcohol.
(compiled from agency reports)