Prime Minister Viktor Yanukovych says he believes the fleet can stay there after the present agreement expires in 2017. He said there was no connection between the rent paid by Russia for the base and the price charged to Ukraine for Russian gas.
Kyiv and Moscow reached a gas deal on October 24 in which Ukraine will pay $130 per 1,000 cubic meters next year, an increase from $95.
Foreign Minister Borys Tarasyuk has even called for an increase in the rent paid by the Russians after the increase in gas prices.
But presidential adviser Taras Stetskiv also reiterated the Ukrainian position that there will be no extensions.
(Interfax, AFP)
Russia And Global Energy Security
Russia And Global Energy Security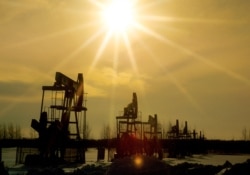 An oil field in Russia's Republic of Bashkortostan (TASS file photo)


ENERGY SECURITY is increasingly moving to the top of the EU's agenda in its dealings the outside world. A recent report identifies the European Union's main energy objectives as not just securing gas and oil deliveries from Russia, but also ensuring that it has reliable alternative sources, including in Central Asia. Nonetheless, EU officials say relations with Russia take center-stage in their thinking....(more)
RELATED ARTICLES
EU Maintains Codependent Energy Relationship With Russia
Turkmenistan: The Achilles' Heel Of European Energy Security
U.S. Official Urges Reforms In Energy-Producing Countries
ARCHIVE
A
complete archive
of RFE/RL's coverage of energy issues in the Caspian Sea region and Russia.