The tight grip of President Mahmud Ahmadinejad's administration marks a notable departure from its predecessor.
Fierce critics of authorities' campaign to rein in authors and publishers warn that the moves could destroy Iran's book industry.
Dozens of authors and publishers say they have been waiting months for their new books, novels, or political essays to be published.
Sooner Or Later, Banned
Farkhondeh Hajizadeh, an Iranian writer and an award-winning publisher, tells RFE/RL that the licensing process for new titles has become "a monster."
Over the past year, she claims, many of her books have gone unpublished.
"It would be better for you to ask how many of my books have been given a license these days," Hajizadeh says when asked about the number of books she has seen held up by censors. "In the past, none of our books were granted permission without modifications. It seems the publishing industry is being devastated, or independent publishers cannot exist anymore. We specialize in art and literature -- that's exactly the area that's problematic for [officials], not physics and chemistry. Our books have been either banned, or they have faced censorship after a year, or they remain suspended."
The publication and distribution of books in the Islamic republic have always required permits from the Culture Ministry.
Such permits were granted following scrutiny by officials who might also demand the removal of materials deemed anti-Islamic, immoral, or politically unacceptable.
Restrictions were eased under reformist President Mohammad Khatami (1997-2005) -- particularly under his first culture minister, Attaollah Mohajerani. Mohajerani was eventually forced out amid heavy criticism from conservatives.
'Unhealthy' Books
When President Ahmadinejad took office in 2005, he appointed a former editor of the hard-line daily "Kayhan" as his minister of culture. Minister Hossein Saffar Harandi -- a former member of Iran's Revolutionary Guard Corps -- has vowed to purge the country's cultural scene of "unhealthy products" and revive the values of Islamic revolution.
Saffar Harandi dismisses the notion that Iran's publishing industry faces a crisis and notes that new titles increased by 10,000 in the Iranian year ending on March 20, 2005.
Ahmadinejad has also said that his government supports books and reading.
But critics say independent authors and writers whose views are not in line with the government's are facing de facto bans.
Author Hajizadeh says that publishers previously could foresee which books were likely to face official obstacles. But she says that is no longer the case.
"There was a time when one could predict that [a certain] book would not get a permit or that they would ask for some parts of it to be removed," Hajizadeh says. "But now, you see that even books by professors, or books related to religion, or books that do not oppose anyone or don't include anything erotic or political -- even very ordinary books -- cannot obtain a permit."
A Tehran-based publisher who asks not to be named tells RFE/RL that those who are now in charge of censoring books lack general knowledge and expertise.
Hajizadeh describes the current situation as hopeless.
"We have always faced censorship, but before one could go and discuss it logically," Hajizadeh says. "The situation is such that one sometimes becomes desperate. For example, they have sent a book by Samad Behrangi to the Culture Ministry, [and] in one of the copies it says that 'two years ago the situation was better than now.' [Officials] have said that [such a passage] should be removed. And there is no way to explain to them that the meaning of 'two years ago' is 'two years ago, 40 years ago,' when Behrangi was still alive."
Unwritten Response
Censors are reportedly blocking the publication of a book by a giant of Iranian literature, novelist Sadegh Hedayat.
Renowned Iranian novelist Mahmud Dolatabadi said in late October that publishers should respond to the pressure by asking to be excused from publishing. He said writers should withhold their works, rather than seek publication.
Fellow novelist Ali Ashraf Darvishian says that he and many others have decided not to submit their books to the Culture Ministry for review.
"I can name the titles of 4,000 books that are currently awaiting permits," Darvishian says. "Some of the writers and poets publish their books outside Iran or on websites. This has put a lot of pressure on the publishing industry; some [publishers] are facing bankruptcy or have gone bankrupt. Many booksellers have changed jobs."
Journalist Emadeddin Baghi recently complained in an open letter to Culture Minister Saffar Harandi that about six of his books have been banned. Most of them deal with human rights issues, such as the situation inside Iranian prisons or the death penalty.
Broader Issues?
Baghi tells Radio Farda that he thinks the ban is retaliation for his investigation into dissident killings in the 1990s, or his association with dissident Ayatollah Hussein Ali Montazeri.
"They have prepared a list of writers whose books should not be published -- some because they are laical and [officials] believe their books could lead to the propagation of secularism, some because of their antiestablishment stances," Baghi says. "The truth is that I'm neither known as being laical nor have I taken antiestablishment stances. The main cause of sensitivity could be over the issue of chain killings of intellectuals, which was covered in the press; I wrote the first article about it. Another reason could be my old ties with Ayatollah Montazeri."
The publishing restrictions have coincided with what writers charge is a government crackdown on freedom of speech in Iran.
Iran's writers association said earlier this week that censorship has reached a new peak in Iran. The association warned that that Iran's cultural community will not remain silent.
Darvishian says intellectuals should protest the restrictions: "I think that if the protests become more widespread in the form of a gathering or letters with many signatures, then I think there would be some results. Because a country cannot continue its life without art, without writers and poets and poetry."
(Radio Farda correspondents Bahman Bastani and Mossadegh Katouzian contributed to this report.)
The Iranian Revolution
Iranians demonstrate in Tehran on February 10, 1979, shortly after the return to Iran of Ayatollah Ruhollah Khomeini (epa)
THE ISLAMIC REPUBLIC: Iran's 1979 revolution ended 2,500 years of monarchy and established the world's first modern theocracy. In February 2004, on the 25th anniversary of that event, RFE/RL produced a special report on how the ensuing years have measured up to the expectations of those times.
"I had been freed from jail in those days, and I hoped that the [revolutionary] forces would bring democracy and progress for the country, despite the religious leadership that caused some doubts, I hoped that the press would be free, the books would be published without censorship, [political] parties, associations and civil society organizations would be formed, and I hoped that I would be able to write freely. In fact, in these 25 years, I have not seen anything but the death and silencing of those beautiful hopes and dreams," Faraj Sarkouhi, an exiled writer and journalist, told RFE/RL....(more)
ARCHIVE
RFE/RL's reporting on Iran.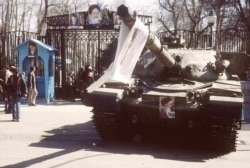 A tank bearing a portrait of Ayatollah Ruhollah Khomeini takes up a position in Tehran on February 12, 1979 (epa)