The changes were expected to take effect early on November 5, the day the verdict is scheduled to be issued.

Many Iraqis predict a firestorm if the former president is sentenced to death for his alleged role in killing about 150 Shi'a after an assassination attempt against him in 1982. Hussein, 69, is accused along with seven codefendants of crimes against humanity.

Curfews are not unusual in Iraq, where authorities impose them at sensitive times and on Fridays, the Muslim day of prayer, Reuters noted.

But Hussein's lead lawyer accused the court of timing its verdict to coincide with midterm elections in the United States on November 7. Reuters quoted Khalil al-Dulaimi as requesting a delay in the reading of the verdict and cautioning that there would be violence if the former strongman was sentenced to die.

The curfew will be imposed on the capital and Hussein's home province of Salahaddin, as well as the province of Diyala, according to the country's national security adviser.
Hussein is expected back in court on November 7 for the start of a trial in which he is accused of genocide against Kurds.

(Reuters, AFP)
The International Coalition In Iraq
The International Coalition In Iraq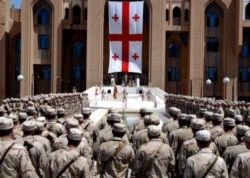 Georgian soldiers marking Georgian Independence Day in Baghdad on June 6 (epa)
COALITION MEMBERS: In addition to the United States, 28 countries are Multi-National Force-Iraq (MNF-I) contributors as of May 31, 2006: Albania, Armenia, Australia, Azerbaijan, Bosnia-Herzegovina, Bulgaria, the Czech Republic, Denmark, El Salvador, Estonia, Georgia, Italy, Japan, Kazakhstan, Latvia, Lithuania, Macedonia, Moldova, Mongolia, the Netherlands, Poland, Portugal, Romania, Singapore, Slovakia, South Korea, Ukraine, and the United Kingdom. Fiji is participating as part of the UN mission in Iraq. Hungary, Iceland, Slovenia, and Turkey are NATO countries supporting Iraqi stability operations but are not part of MNF-I.
NON-U.S. MILITARY PERSONNEL IN IRAQ: United Kingdom, 8,000 as of May 26, 2006; South Korea, 3,237 as of May 9, 2006; Italy, 2,900 as of April 27, 2006; Poland, 900 as of May 30, 2006; Australia, 900 as of March 28, 2006; Georgia, 900 as of March 24, 2006; Romania, 860 as of April 27, 2006; Japan, 600 as of May 30, 2006; Denmark, 530 as of May 23, 2006; All others, 1,140.
(Source: The Washington-based Brooking Institution's Iraq Index of June 15, 2006)


THE COMPLETE STORY: RFE/RL's complete coverage of events in Iraq and that country's ongoing transition.
RADIO FREE IRAQ: To visit the Arab-language website of RFE/RL's Radio Free Iraq, click here.