Kyrgyz Independent Media Report Troubles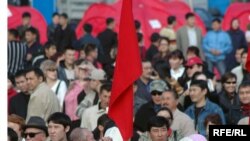 Large crowds have congregated for the best part of a week in central Bishkek to push for constitutional reform (RFE/RL) BISHKEK, November 8, 2006 (RFE/RL) -- Several Kyrgyz independent media say they have encountered a series of technical problems since opposition demonstrators demonstrated in Bishkek on November 2.
Marat Tokoev, who heads a nongovernmental group known as Journalists, today confirmed that the websites of two information news agencies, AKIpress and 24.kg, were attacked by hackers on the first day of the protests.
Access to both websites from outside Kyrgyzstan was restored only on November 7.
Another independent electronic media outlet, tazar.kg, today reported that hackers had destroyed all its news archive, forcing it to close its website temporarily.
Also today, two TV channels -- NTS and Piramida -- reported having transmission problems.
Piramida editor Turat Bektenov told RFE/RL's Kyrgyz Service that unidentified attackers had damaged the TV station's tower in the southeastern outskirts of Bishkek.