'Borat' Barred From Russian Movie Theaters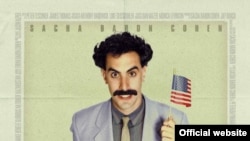 (official website) November 9, 2006 -- Russian authorities have barred the movie "Borat" from showing in Russian movie theaters on the grounds that it might offend audiences.
The satirical movie stars the Jewish British comedian Sacha Baron Cohen as a fictional Kazakh television reporter who tours the United States, and includes numerous anti-Semitic and racist references.
It is currently the most popular film at box offices in the United States, Britain, and a number of other countries.
(AFP, BBC)