The embargo was imposed following the military crackdown in the Uzbek city of Andijon in May 2005.
The council said in a statement that visa restrictions on the 12 Uzbek officials it holds responsible for the Andijon violence will be extended for another six months.
The council says it "remains profoundly concerned by the human rights situation in Uzbekistan," and urges President Islam Karimov's government "to implement fully its international obligations related to human rights and fundamental freedoms."
In order to achieve progress on rights issues, the council decided to resume "technical meetings" with the Uzbek leadership.
The EU's special representative for Central Asia, Pierre Morel, told RFE/RL's Uzbek Service that the decision reached today aims at "adapting" the sanctions regime.
"The text speaks by itself," he said. "It takes into account all the elements, the plus[es] and minus[es], in order to come to this new phase of our relationship with Uzbekistan -- that is a mix of working together in order to improve -- concretely and rapidly -- the human rights situation, and at the same time in view of the fact that things have not been moving in the [right] direction in many respects, a pursuance of a series of measures. It is a combined approach, which intends to be dynamic in order to [achieve] results quickly."
The sanctions were imposed after Karimov refused to let the EU investigate the Andijon upheaval.
Uzbek authorities say 187 people, including many security officers, were killed in what they describe as a foreign-funded armed Islamist uprising.
Rights groups, in turn, say government troops killed hundreds of unarmed civilians while reasserting control over the city.
In other news, Uzbekistan's government has set up a special fund to control and manage foreign financial assistance to the country's media outlets.
State-controlled news agencies say today that foreign states and organizations are now forbidden to directly provide grants to Uzbek media and that the amount of foreign help any media outlet can receive will be strictly regulated.
Uzbekistan has tightened its grip on independent media since the Andijon events.
(RFE/RL's Uzbek Service, consilium.europa.eu, vesti.uz, press-uz.info)

Andijon Anniversary Conference
Andijon Anniversary Conference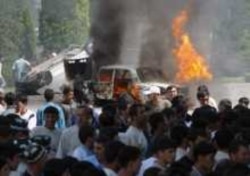 Violence in Andijon, Uzbekistan, on May 14, 2005 (epa)


TALKING ABOUT ANDIJON:
On May 9, 2006, RFE/RL, the National Endowment for Democracy, and U.S.-based human rights organizations cohosted a conference on the May 2005 events in Andijon and their aftermath in Uzbekistan and throughout the region. The first panel featured Andijon eyewitness
GALIMA BUKHARBAEVA
, National Endowment for Democracy Fellow
NOZIMA KAMALOVA
, RFE/RL Central Asia analyst
DANIEL KIMMAGE
, and others. The second panel featured presentations by U.S. Senator
JOHN MCCAIN
and U.S. Congressman
CHRISTOPHER SMITH
, who used the forum to announce they had introduced legislation calling for sanctions and other measures against the government of President Islam Karimov.
LISTEN
Listen to the Andijon conference. Part One (70 minutes):
Real Audio
Windows Media
Part Two (60 minutes):
Real Audio
Windows Media
The Uzbek government's response:
Real Audio
Windows Media


THE COMPLETE STORY: A dedicated webpage bringing together all of RFE/RL's coverage of the events in Andijon, Uzbekistan, in May 2005 and their continuing repercussions.
CHRONOLOGY
For an annotated timeline of the Andijon events and their repercussions, click here.