Turkmenistan Probes 'Falsified' Agricultural Figures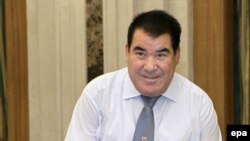 President Saparmurat Niyazov earlier this month in Ashgabat (epa) November 14, 2006 -- Turkmen President Saparmurat Niyazov has accused regional governors and agriculture officials of lying to hide the fact that they missed planting targets for this year's grain crop.
Turkmenistan's official TDH news agency quoted Niyazov as saying on November 14 that he has ordered law-enforcement agencies to launch probes in the Dashhowuz, Lebap, and Mary regions.
Niyazov warned that any official found guilty of falsifying figures will face criminal prosecution.
The Turkmen leader cited the Balkan and Ahal regions, whose governors he sacked in October for failing to meet this year's cotton targets.
TDH quoted Niyazov as saying actual planting figures for grain in those two regions were also well below what the two outgoing governors had officially announced.
He warned that a November 24 cabinet meeting will address those issues.
(Turkmenistan.ru)
RFE/RL Central Asia Report

SUBSCRIBE For regular news and analysis on all five Central Asian countries by e-mail,
subscribe to "RFE/RL Central Asia Report."