Kulov made the comments during a break in a cabinet meeting today, according to RFE/RL's Kyrgyz Service.
"I, personally, have no plans to resign," Kulov said. "However I've repeatedly said that at the end of the year those [government] officials who will not have fulfilled their duties will have to account [to me]. I've warned them and, naturally, I reiterated my position at today's cabinet meeting."
Leaders of the For Reforms opposition movement on November 14 urged Kulov to step down, saying his voluntary departure would help avert the risk of new political crises like the one that accompanied street protests in early November.
Thousands of opposition supporters launched an open-ended protest in central Bishkek on November 2 to demand that President Kurmanbek Bakiev implement long-delayed constitutional and other reforms or step aside.
Bakiev signed a new constitution on November 9 that had been approved the previous day by lawmakers and that reduces the powers of the president and gives the legislature greater control over the composition of the government.
Understanding Kyrgyzstan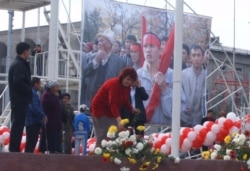 Workers preparing for celebrations of the constitutional compromise in Bishkek on November 9 (RFE/RL)


A STABLE FOUNDATION? On November 9, RFE/RL's Washington office hosted a briefing featuring RFE/RL Kyrgyz Service Director Tyntchtykbek Tchoroev and RFE/RL analyst Daniel Kimmage.
LISTEN
Listen to the complete discussion (about 80 minutes):

Real Audio
Windows Media
RELATED ARTICLES
Parliament Adopts Constitution Curtailing Presidential Powers
Crisis Deepens After President Proposes Constitutional Changes
Bishkek Prepares For Large Opposition Rally