In a statement released today, the Kyrgyz Prosecutor-General's Office says it has been notified by its Uzbek counterpart that the case of the five has been transferred to a Tashkent city court for review.
Kyrgyz Prosecutor-General Kambaraly Kongantiev's spokesman Toktogul Kakchekeev told RFE/RL's Kyrgyz Service that under an agreement reached when the five were deported, Uzbekistan has pledged to provide regular information about them and the investigation.
"Every month we've been asking [the Uzbek side] how these people are, how do they feel," said Kakchekeev. "They have just sent us a note saying that they are OK, that their health condition is good, and that under Uzbek laws their cases have been investigated and sent to court."
The Kyrgyz statement says all deportees are accused of involvement in the killing of Andijon Prosecutor Gani Abdurahimov in May 2005.
The five -- Jahongir Maqsudov, Yaqub Toshboev, Olidjon Rahimov, Rasuljon Pirmatov, and Tayoz Tojihalilov -- had fled to Kyrgyzstan after Uzbek security forces violently reasserted control over Andijon.
They were subsequently arrested and forcibly returned to Uzbekistan despite the fact that four of them had been recognized as asylum-seekers by the UNHCR ( the United Nations High Commissioner for Refugees).
(with AKIpress, Kabar)
Andijon Refugees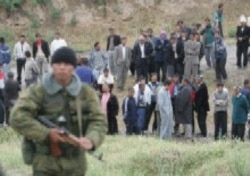 Uzbek refugees in Kyrgyzstan on May 19, 2005 (epa)


NO PLACE TO GO: More than 400 Uzbeks who fled in panic in the hours and days after troops opened fire on demonstrators in Andijon one year ago have been granted political asylum outside Central Asia. In limbo for weeks in Kyrgyzstan as they and the world tried to come to grips with the bloody events of May 12 and 13, they feared for their lives and the lives of family members as the official crackdown continued.... (more)
RELATED ARTICLES
Andijon Refugees In Romania Have Escaped Violence, But Not Heartache
Refugees In Romania Await Decision On Destination
Refugees Want To Return Only If Regime Changes


THE COMPLETE STORY: A dedicated webpage bringing together all of RFE/RL's coverage of the events in Andijon, Uzbekistan, in May 2005 and their continuing repercussions.
CHRONOLOGY
For an annotated timeline of the Andijon events and their repercussions, click here.