Russian Official Opposes 'Ethnic Enclaves'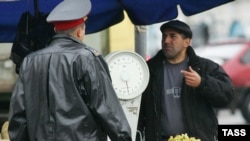 Russian officials check the documents of a market stallholder in Ivanovo (ITAR-TASS) November 16, 2006 -- The deputy head of the Federal Migration Service says Russia should not permit the creation of "ethnic enclaves" where foreigners outnumber ethnic Russians.
Vyacheslav Postavnin said that, to avoid creating "discomfort" for the indigenous population, foreigners should not comprise higher than 20 percent of the population of any district or region.
His comments came after a new government order that will ban foreigners from selling at market stalls from next year.
(Ekho Moskvy, AP)



UPDATED CONSTANTLY: Visit RFE/RL's Russian-language website, featuring news, analysis, features, streaming audio, and more, in Russian, from RFE/RL's Russian Service.
ARCHIVE
RFE/RL's English-language
coverage of Russia
.