Aleksandr Ryazanov, who headed the firm's oil branch, Gazpromneft, was replaced by a former KGB officer who worked in St. Petersburg with Russian President Vladimir Putin.
Experts say the shake-up could be the result of Ryazanov's ambitions to turn Gazpromneft into an independent unit.
Experienced Manager
The 53-year-old Ryazanov is a veteran of Russia's oil industry and is widely seen as a highly experienced manager.
Explanations for his dismissal are unlikely to come from Gazprom itself, which just said that Ryazanov's contract was expiring.
Yevgueny Yasin, a former Russian economy minister who currently heads the Higher School of Economics in Moscow, says Ryazanov is a "top-class manager."
Gazprom is a company that, besides pure business, fulfills specific political functions
"I don't think his dismissal was connected to fact that he didn't suit professionally. In my opinion, this represents a consolidation within Gazprom with the aim of achieving a greater monolithic unity," Yasin says. "After all, Gazprom is a company that, besides pure business, fulfills specific political functions. I think that Ryazanov's dismissal may have been somehow linked to this."
Oil Arm Of Gas Business
Ryazanov was in charge of Gazprom's oil unit, Gazpromneft. He will be replaced by Valery Golubyev, a former KGB intelligence officer who served in the St. Petersburg mayor's office at the same time as Russian President Vladimir Putin in the early 1990s.
The Kremlin-controlled gas giant is Russia's biggest company and the world's largest gas producer. As part of its strategy to diversify into the oil sector, it bought oil-producer Sibneft from tycoon Roman Abramovich last year for over $13 billion.
Ryazanov's dismissal could well result from disagreements about the future of Gazprom's oil arm. Some observers say he was fired over his alleged plans to turn Gazpromneft into an independent unit.
Christopher Weafer, an an oil and gas analyst at Russia's Alpha Bank, says Gazprom is going through a lot of change right now.
"There's also a great deal of debate as to what Gazprom's strategy is going to be in relation to its gas business and increasingly, of course, what role it's going to have in oil. So we definitely would see his removal as part of that internal debate," Weafer says.
NATO Report
Ryazanov's removal is likely to fuel Western fears that the Kremlin is further consolidating its control over the energy sector, both in Russia and internationally.
After all, Gazprom is a company that, besides pure business, fulfills specific political functions.
According to the British "Financial Times" daily, NATO economics experts have warned the alliance that Russia, which supplies one-quarter of Europe's natural gas, may be seeking to create a global gas cartel to strengthen its leverage against Europe.
NATO's confidential study says the group would include Algeria, Qatar, Libya, Central Asian countries, and perhaps Iran.
Cartel Fears
The idea of a global gas cartel was first floated by Russian President Vladimir Putin in 2002.
And in May, Gazprom board member Aleksandr Medvedev said Russia would create what he called "an alliance of gas suppliers that will be more influential than OPEC" if energy negotiations between Russia and Europe should fail.
But Weafer says there is no grounds for concern: "We have definitely seen greater contact and a better relationship developing between Russia and some other key gas producers, particularly those producers that potentially could be much bigger suppliers of gas to the European market. Russia's relationship with Algeria has improved, there is an ongoing relationship between Russia and Iran. Russia's position with the Central Asian states -- Uzbekistan, Kazakhstan, and Turkmenistan -- also has improved very substantially over the last couple of years.
Weafer says it's a big stretch to say that this will eventually develop into something as formal as OPEC.
Dmitry Peskov, deputy Kremlin spokesman, told the "Financial Times" on November 13 there was "no substance at all" to the suggestion that Russia was seeking a gas cartel.
"Our main thesis is interdependence of producers and consumers. Only a madman could think that Russia would start to blackmail Europe using gas," he said, "because we depend to the same extent on European customers."
Gas Facts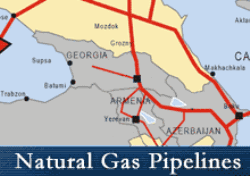 Click on the map for an enlarged image.
Ukraine consumes 70 billion cubic meters (bcm) of gas per year. It produces 20 bcm of its own gas, has a signed contract to import 40 bcm from Turkmenistan, and in 2005 was getting 29 bcm from Russia as payment for transit of Russian gas.
Ukraine sells some 7 bcm of gas a year to the West and places some in underground storage facilities. These facilities can hold 34.5 bcm.
Ukraine is the sixth-largest consumer of gas in the world and uses more gas than Poland, the Czech Republic, Hungary, and Slovakia combined.
Russia has proven gas reserves of 47 trillion cubic meters (tcm) -- the largest in the world ahead of Iran and Qatar.
Russia sells approximately 160 bcm to Europe each year. By 2015, Europe is expected to import 300 bcm, or 40 percent of its projected needs from Russia.
Russia's Gazprom is the world's largest gas company. It is the only company allowed by Russian law to export gas outside the borders of the CIS. It also owns the gas-transportation system and most of the gas fields in Russia.
The Russian state is Gazprom's majority shareholder , with a 51 percent share. The company's ownership rights changed as of the beginning of 2006, with Gazprom stock being sold on the open market. The Russian state, however, will continue to hold the majority stake.