General Abdul Rahim Wardak also said Kabul aimed to speed up the recruiting and training of the army, to raise the force to a strength of 70,000 by 2008.
He was speaking in Washington on November 20 on the eve of talks with outgoing U.S. Defense Secretary Donald Rumsfeld.
Meanwhile, the commander of Canadian forces in Afghanistan says a recent NATO offensive in the southern province of Kandahar has set back the Taliban.
But Lieutenant-General Andrew Leslie said on November 20 that he expected the Taliban to regroup and mount further attacks on western forces.
NATO forces launched a major operation against the Taliban in southern Afghanistan in September, killing hundreds of militants.
Leslie made his remarks on November 20 in Ottawa before a parliamentary defense committee.
Also speaking to the committee was Brigadier-General Al Howard, a leading Canadian army strategist. He said NATO forces in the south would press ahead to set up so-called development zones. These zones, Howard said, would allow reconstruction work to go on under conditions of safety.
Howard stressed that the southern Kandahar region remained dangerous and said the zones would not work immediately.
(Reuters)
The Afghan Insurgency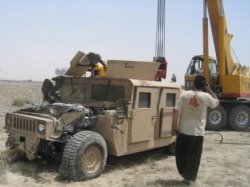 A U.S. military vehicle damaged by insurgents near Kandahar (epa)
HOMEGROWN OR IMPORTED? As attacks against Afghan and international forces continue relentlessly, RFE/RL hosted a briefing to discuss the nature of the Afghan insurgency. The discussion featured Marvin Weinbaum, professor emeritus of political science at the University of Illinois at Urbana-Champaign, and RFE/RL Afghanistan analyst Amin Tarzi.
LISTEN
Listen to the entire briefing (about 83 minutes):
Real Audio
Windows Media
ARCHIVE
RFE/RL's
coverage of Afghanistan
.
SUBSCRIBE
For weekly news and analysis on Afghanistan by e-mail,
subscribe to "RFE/RL Afghanistan Report."