China argued the draft was confrontational and that Uzbekistan had made progress since a similar resolution was passed by the General Assembly last year in reaction to the Uzbek crackdown in Andijon in May 2005.
Witnesses says hundreds were killed when troops opened fire in Andijon. The Uzbek government blamed the unrest on Islamic extremists and said most of the dead were armed insurgents.
This year's draft resolution by the UN's Human Rights Council criticized Uzbekistan for not allowing an independent inquiry on Andijon and detaining representatives of local organizations who wanted to watch secret trials of some 266 defendants.
The resolution was based on a report by UN Secretary-General Kofi Annan earlier this month, saying there had been no rights progress over the past year, including "ample evidence" of torture by security authorities.
(Reuters)
UN Human Rights Council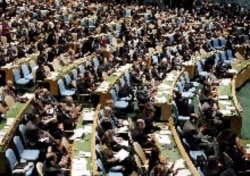 UN General Assembly delegates applaud the creation of the UN Human Rights Council on March 15, 2006 (epa)
A FRESH START ON HUMAN RIGHTS: The United Nations General Assembly on May 9 elected members to its new Human Rights Council, a step that reformers hope will help improve the United Nations' sullied record on defending human rights. The UN's old human rights watchdog -- the Commission on Human Rights -- had long been criticized for granting membership to countries with dismal human rights records, such as Cuba, Sudan and Zimbabwe.
Every member of the new body has to pledge to promote human rights. (more)
RELATED ARTICLES
General Assembly Votes To Create New Rights Council
Vote On Human Rights Council In Limbo Over U.S. Objections
At 60, UN Gripped By Debate on Human Rights Reform
SUBSCRIBE
For a regular review of civil-society developments throughout RFE/RL's broadcast region,
subscribe to "RFE/RL (Un)Civil Societies."