Opposition Activists Sentenced in Azerbaijan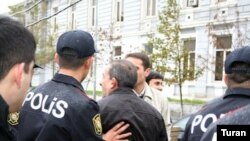 Azerbaijani police move in to break up the November 15 demonstration by opposition activists (Turan) November 24, 2006 -- An Azerbaijani court has sentenced 12 opposition activists to jail terms of up to 15 days on charges of violating public order.
The activists had taken part in a protest against alleged government pressure on the independent media.
The opposition says police on November 23 detained more than 50 activists during the demonstration, which was against government plans to evict the opposition newspaper "Azadliq" from its offices in Baku.
Some were released after being ordered to pay fines for violating public order during the nonviolent demonstration.
Authorities say "Azadliq" has failed to pay thousands of dollars in back rent.
The opposition Popular Front party -- which has offices in the same building and also faces eviction -- says the measure is an attempt to pressure government opponents.
The editor of "Azadliq," Ganimat Zahidov, has been on a hunger strike for the past two weeks.
(Turan, Interfax)