Pope Leaves Turkey With Hopes For 'Better Understanding'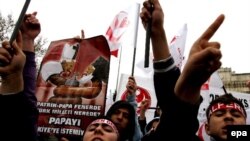 Yesterday's protest against the pope's visit to the Blue Mosque in Istanbul (epa) December 1, 2006 -- Pope Benedict XVI has left Turkey, ending his first papal visit to a Muslim country.
Just before his departure, the 79-year-old pontiff told Istanbul Governor Muammer Guler that he hopes his four-day visit will contribute to a "better understanding" between religions. He said he was leaving part of his heart in the city.
The pope left aboard a Turkish Airlines flight from Istanbul's Ataturk airport after celebrating his second and final Mass at the Cathedral of the Holy Spirit.
Much of pope's trip was aimed at easing Muslim anger over remarks he made in September on violence and the Prophet Muhammad.
On November 30, Benedict became only the second pontiff in history to go inside a mosque when he visited Istanbul's Blue Mosque. The pope removed his shoes before entering and stood in a moment of silent meditation.
(compiled from agency reports)