Kyrgyz President Urges Caution Over World Bank Program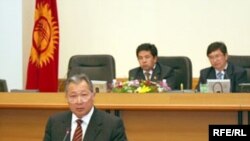 President Bakiev addresses lawmakers on December 4 (RFE/RL) BISHKEK, December 4, 2006 (RFE/RL) -- Kyrgyz President Kurmanbek Bakiev has called on lawmakers to give careful thought to whether the country should join a World Bank program aimed at reducing poor countries' debt burdens.
Bakiev told parliament today that he has not made up his mind as to whether Kyrgyzstan should join the Heavily Indebted Poor Countries (HIPC) program, but he said the issue should be "carefully" examined, according to RFE/RL's Kyrgyz Service.

The government says joining the program will help write off part of Kyrgyzstan's $2 billion external debt.

But many lawmakers say it could do more harm than good, including by obliging the country to carry out measures imposed by the international community.
The question of membership of the HIPC has proven divisive in Kyrgyzstan.