In their statement, U.S. Ambassador Zalmay Khalilzad and General George W. Casey condemn the upsurge in car bombings, executions, and retaliatory violence that has claimed hundreds of lives in recent days.
Their statement comes as Abd al-Aziz al-Hakim, one of Iraq's top Shi'ite politicians, is set to meet President George W. Bush in Washington for discuss ways to halt the violence.

It also comes as the Bush administration grapples with domestic pressure to adapt its strategy to counter mounting violence that has threatened to erase gains since the invasion to oust Saddam Hussein in early 2003.
Sectarian violence -- particularly pitting Shi'a against minority Sunnis -- and other attacks have prompted some to describe the bloodshed as a "civil war," a label that the White House has rejected.

Meanwhile, UN Secretary-General Kofi Annan said he believes the situation in Iraq is now worse than what was considered a "civil war" years ago in Lebanon. "A few years ago, when we had the strife in Lebanon and other places, we called that a civil war," he said. "This [in Iraq] is much worse."

Some 50 bodies of people shot to death have been found in and around Baghdad in the past day.

(AP)
The International Coalition In Iraq
The International Coalition In Iraq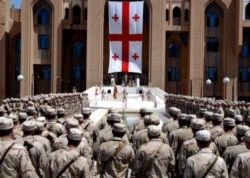 Georgian soldiers marking Georgian Independence Day in Baghdad on June 6 (epa)
COALITION MEMBERS: In addition to the United States, 28 countries are Multi-National Force-Iraq (MNF-I) contributors as of May 31, 2006: Albania, Armenia, Australia, Azerbaijan, Bosnia-Herzegovina, Bulgaria, the Czech Republic, Denmark, El Salvador, Estonia, Georgia, Italy, Japan, Kazakhstan, Latvia, Lithuania, Macedonia, Moldova, Mongolia, the Netherlands, Poland, Portugal, Romania, Singapore, Slovakia, South Korea, Ukraine, and the United Kingdom. Fiji is participating as part of the UN mission in Iraq. Hungary, Iceland, Slovenia, and Turkey are NATO countries supporting Iraqi stability operations but are not part of MNF-I.
NON-U.S. MILITARY PERSONNEL IN IRAQ: United Kingdom, 8,000 as of May 26, 2006; South Korea, 3,237 as of May 9, 2006; Italy, 2,900 as of April 27, 2006; Poland, 900 as of May 30, 2006; Australia, 900 as of March 28, 2006; Georgia, 900 as of March 24, 2006; Romania, 860 as of April 27, 2006; Japan, 600 as of May 30, 2006; Denmark, 530 as of May 23, 2006; All others, 1,140.
(Source: The Washington-based Brooking Institution's Iraq Index of June 15, 2006)


THE COMPLETE STORY: RFE/RL's complete coverage of events in Iraq and that country's ongoing transition.
RADIO FREE IRAQ: To visit the Arab-language website of RFE/RL's Radio Free Iraq, click here.