Kyrgyz Police Arrest Unseated Lawmaker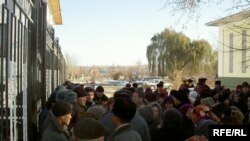 Orozbaev supporters demand his release in front of Osh's Prosecutor-General's Office on December 11 (RFE/RL) December 11, 2006 -- Police in Kyrgyzstan have arrested an unseated parliamentarian Mamat Orozbaev for financial crimes that he allegedly committed before a disputed election in May.
The arrest took place on December 8 but was reported only today.

Kyrgyz news agencies say dozens of Orozbaev supporters today picketed the Osh regional prosecutor's office to demand his release. They have alleged that he is being targeted for political reasons.

Police say Orozbaev was arrested over suspected financial wrongdoing that took place before a by-election in the Tuzbel district in May that temporarily earned him a seat in the parliament.

Following a subsequent decision by the Central Election Commission to void that result and award that seat to his rival, Orozbaev's status remained in limbo until the Supreme Court stripped him of his parliamentary mandate on November 15.
Orozbaev had been declared the winner of a parliamentary seat on May 19, but a challenge by rival Sanjar Kadyraliev resulted in a new vote on June 25.
Scores of supporters from both camps fought in the streets in Tuzbel while balloting was under way in the new by-election.
(24.kg, AKIpress)