Kyrgyz Protest Against World Bank Program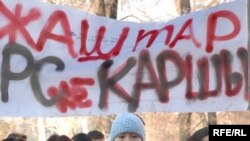 An anti-HIPC protest last week in Bishkek (file photo) (RFE/RL) BISHKEK, December 12, 2006 (RFE/RL) -- Dozens of Kyrgyz protesters today marched through central Bishkek, throwing eggs at the building that hosts the World Bank offices and chanting slogans hostile to the organization, RFE/RL's Kyrgyz Service reported.
They demanded that authorities renounce plans to join a international debt-relief program known as Heavily Indebted Poor Countries (HIPC).
HIPC is cosponsored by the World Bank and the International Monetary Fund (IMF).
The Kyrgyz government has been negotiating the conditions of its entry into HIPC with both financial organizations since November 29.
Economics and Finance Minister Akylbek Japarov told RFE/RL's Kyrgyz Service today the talks are over.
"We've completed our negotiations with these two international institutions," he said. "The government must now make a decision. We will inform our president about the conditions [of our entry] and, of course, our parliament will discuss this issue. Whether or not we accept this program is up to us."
Whether Kyrgyzstan should join HIPC is a question that has been dividing its political elite. The government says the program will help write off part of Kyrgyzstan's $2 billion external debt.
Critics -- among them a number of lawmakers -- fear HIPC might give the World Bank and the IMF too much influence over the national economy.
(with material from AKIpress, 24.kg)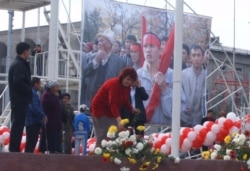 Workers preparing for celebrations of the constitutional compromise in Bishkek on November 9 (RFE/RL)


A STABLE FOUNDATION? On November 9, RFE/RL's Washington office hosted a briefing featuring RFE/RL Kyrgyz Service Director Tyntchtykbek Tchoroev and RFE/RL analyst Daniel Kimmage.
LISTEN
Listen to the complete discussion (about 80 minutes):

Real Audio
Windows Media
RELATED ARTICLES
Parliament Adopts Constitution Curtailing Presidential Powers
Crisis Deepens After President Proposes Constitutional Changes
Bishkek Prepares For Large Opposition Rally