Standing alongside his Iraqi counterpart during a press conference in Baghdad, Blair called on Iraq's neighbors to help its efforts to restore order and to rebuild.
'Strong Obligation'
"I think it's important that we exercise all the pressure and authority that we can have to make sure that all countries in the region are supporting Iraq and supporting its people and its democracy," Blair said. "There is a very strong obligation, which is set in the United Nations resolution for all countries in the region to be supportive of the prime minister and his government and the Iraqi people and not undermine them. I can assure you that during the course of not just this visit but the weeks and month ahead I will be making that very clear and I believe that the international community should do the same."
Iraqi Prime Minister al-Maliki indicated that convincing neighboring countries to join in efforts to help Iraq restore security was on the agenda during his meeting with Blair.
"Who is creating the difficulty in Iraq today? Who is creating the challenge? Who is creating the bloodshed?" -- Tony Blair
"We went through ideas that can contribute to making the political process a success, these ideas included engaging regional countries," he said.
Asked by a journalist if U.S.-led multinational forces, including British forces, were at least partially responsible for Iraq plummeting into chaos, Blair said it was not the fault of international forces in Iraq but rather of other groups opposed to seeing the current Iraqi government succeed.
"Who is creating the difficulty in Iraq today? Who is creating the challenge? Who is creating the bloodshed?" Blair asked. "The people that are spilling the blood of the innocent in Iraq today are terrorists, are former supporters of Saddam, are everyone who does not want to see democracy in this country. This isn't happening because the Iraqi people voted for democracy, why shouldn't the Iraqi people have a chance to have a democracy? This is being created by people deliberately trying to prevent the will of the Iraqi people for democracy being achieved."
Gruesome Reminders
Blair's arrival in Iraq was accompanied by reminders that the struggle to bring security to Iraq would not be simple.
Gunmen wearing police uniforms reportedly kidnapped up to 30 people after
storming a Red Crescent Society branch
in central Baghdad today. Reports said the attackers arrived in pickup trucks, entered the office, and escaped with with employees, visitors, and security guards.
Also today, Iraqi police said they had found the bodies of 53 executed men in Baghdad. The date of the killing was not announced.
In the Shi'ite holy city of Karbala, police on December 16 found a grave holding more than 30 bodies apparently killed by the regime of former President Saddam Hussein in 1991.
The same day, three U.S. soldiers were killed north of Baghdad.
(compiled with agency reports)
On The Verge Of Civil War
On The Verge Of Civil War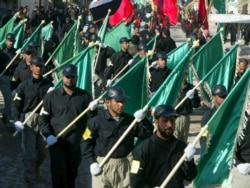 The Imam Al-Mahdi Army on parade (epa)
HAS THE CONFLICT IN IRAQ BECOME A CIVIL WAR? Many observers have concluded that the tit-for-tat sectarian violence that emerged after the February 2006 bombing of a mosque in Samarra has become a full-blown civil war.... (more)


RELATED ARTICLES
U.S. Media Starts Using 'Civil War' Label
Iraqi Prime Minister Under Fire From All Sides
U.S. Expert Discusses Prospects For Stabilization
President Says Iraq Needs Iran's Help
Saudi Arabia To Seal Off Border With Security Fence

THE COMPLETE PICTURE:
Click on the image to view RFE/RL's complete coverage of events in Iraq and that country's ongoing transition.