Stolen Russian Painting Returned Via Communists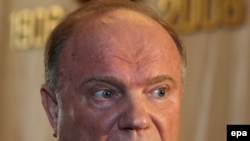 Communist Party leader Gennady Zyuganov (file photo) (epa) December 20, 2006 -- A painting believed to have been stolen five years ago from the Hermitage Museum in St. Petersburg has been handed over to the leader of the Russian Communist Party, Gennady Zyuganov.
Zyuganov said an unknown person gave the painting by 19th-century French artist Jean-Leon Gerome to one of his aides after an anonymous phone call earlier on December 19.
The painting is estimated to be worth around $1 million.
Experts from the Culture Ministry have been called in to verify the authenticity of the painting.
(Interfax, gazeta.ru)