Russian President To Visit Ukraine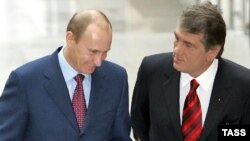 Russian President Vladimir Putin (left) and Ukraine's President Viktor Yushchenko pictured together in Belarus on November 28 (ITAR-TASS) December 21, 2006 -- Russian President Vladimir Putin is expected in Kyiv on December 22, where he will meet with his Ukrainian counterpart, Viktor Yushchenko.
Moscow's influence on Ukraine has diminished since the 2004 Orange Revolution, which brought the pro-Western Yushchenko to power.
However, this year has seen Yushchenko's "Orange" coalition fall apart and his Moscow-backed rival Viktor Yanukovych become prime minister.
(AFP)