Speaking to journalists in Bishkek, Akmatbek Keldibekov and Kamchy Tashiev criticized parliament for opposing constitutional amendments that would strengthen the president's power.
Meanwhile, the leader of Kyrgyzstan's Social Democratic Party, Almaz Atambayev, said parliament should not be dissolved before the adoption of new laws required by the constitution that was adopted in November.
"It is impossible for this parliament to be dissolved at least until May [2007], and it has to adopt all the laws," Atambaev said. "Otherwise there will be a war in Kyrgyzstan, because even if parliament adopts the [proposed] authoritarian [changes to the] constitution, I will tell you openly, we will not accept it. It would be a constitution adopted illegally. Then we would take every [possible protest action]. We are ready for that."
Atambaev was speaking at a meeting of the For Reforms Movement, which groups opposition parties and nongovernmental organizations.
One of the leaders of the movement, Omurbek Tekebaev, told RFE/RL that he met with Bakiev today to discuss the crisis. He did not elaborate.
On December 25, lawmakers rejected a proposal to amend the new constitution. Among the amendments were articles reinstating the president's right to appoint a prime minister, government, and governors.
Understanding Kyrgyzstan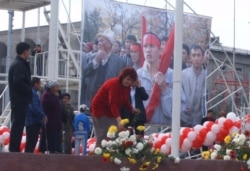 Workers preparing for celebrations of the constitutional compromise in Bishkek on November 9 (RFE/RL)


A STABLE FOUNDATION? On November 9, RFE/RL's Washington office hosted a briefing featuring RFE/RL Kyrgyz Service Director Tyntchtykbek Tchoroev and RFE/RL analyst Daniel Kimmage.
LISTEN
Listen to the complete discussion (about 80 minutes):

Real Audio
Windows Media
RELATED ARTICLES
Parliament Adopts Constitution Curtailing Presidential Powers
Crisis Deepens After President Proposes Constitutional Changes
Bishkek Prepares For Large Opposition Rally