Khalil al-Dulaymi said Hussein "is a prisoner of war and according to international law he should not be handed to his enemies."
Italian Prime Minister Romano Prodi today spoke out against executing Hussein.
"I don't think that Saddam [Hussein]'s execution could help bring peace to Iraq in any way," Prodi said. "Putting aside the condemnation of the death penalty that I strongly reiterate and express again, even as a political choice, [Saddam Hussein's execution] risks having more negative aspects than positive ones."
Earlier, a senior Vatican official said he hopes Hussein will be spared execution, citing the Catholic Church's opposition to the death penalty.
An Iraqi appeals court on December 26 upheld a November 5 decision to execute Hussein for his role in the killing of 148 Shi'a in 1982.
The court today published its formal written decision, putting in motion the process expected to lead to Hussein's execution within 30 days.
According to Justice Minister Hahim al-Shibli, the judgment must be ratified by Iraqi President Jalal Talabani.
(Reuters, AFP, AP, dpa)
The Tragedy At Al-Dujayl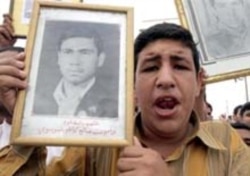 A protester in Baghdad carries a picture of a relative killed at Al-Dujayl (AFP file photo)


READ
Former Iraqi dictator
SADDAM HUSSEIN
and seven of his associates went on trial on October 19, 2005, on charges of crimes against humanity for the regime's role in the deaths of 148 residents from the town of Al-Dujayl, and the imprisonment of 1,500 others following a botched assassination attempt against Hussein there on July 8, 1982. Following the arrests and deportations, the regime leveled the town...
(more)
See also:
Al-Dujayl Native Tells Her Story
Al-Dujayl Survivor Says 'We Want The Deserved Punishment For The Guilty