Both have been sentenced to death and there are unconfirmed reports that the sentences will be carried out soon.
Earlier, there were unconfirmed reports that Hussein had been handed over from U.S. to Iraqi custody. But those reports were later denied by Iraqi Deputy Justice Minister Bosho Ibrahim. The U.S. Embassy in Baghdad refused to confirm or deny Hussein's transfer.
"The New York Times" quoted White House officials as saying they have been told that the death sentence against Hussein will be carried out soon.
The UN human rights chief has called for restraint by Iraqi authorities over Hussein's death sentence. Louise Arbour said there were concerns about the fairness of the original trial. Also, the Finnish presidency of the European Union on December 29 reiterated its opposition to executing Hussein.
The Iraqi High Tribunal confirmed on December 28 that an automatic appeal against Hussein's death sentence had failed. Hussein bade two half-brothers farewell on December 28 in a rare prison meeting.
Meanwhile, the Iraqi body in charge of expelling senior officials of Saddam Hussein's disbanded Ba'ath Party from government has decided to let nearly 500 Ba'athists return to their old work, provided they sign a document disavowing the party.
The director of the Supreme National Commission for De-Ba'athification, Ali al-Lami, confirmed the move.
Earlier this month, Prime Minister Nuri al-Maliki called for the reintegrating of ousted former members of Iraq's military as part of measures aimed at national reconciliation.
(compiled from agency reports)
Saddam Hussein Biography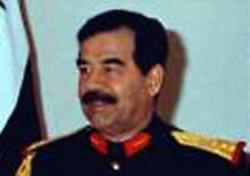 For a timeline of former Iraqi President Saddam Hussein's life from his rise within the ranks of the Ba'ath Party and the Revolution Command Council to his regime's ruthless persecution of perceived enemies at home and abroad, click here.