A colleague said Habib Meftah Bushehri was convicted in connection with a performance in France in 2006, during which their group, Shanbezadeh, played religious music.
Band leader Saeed Shanbezadeh told Radio Farda in an interview from Paris that the court issued its sentence after viewing a recording of the performance.
"The judge's interpretation is that our work is an insult to sanctities because we played [the southern Iranian city of] Bushehr's religious music," Shanbezadeh said. "The religious music of Bushehr is some of the strongest and most beautiful music in southern Iran; it's an important part of our culture. I'm surprised that someone can issue such a verdict."
Shabezadeh said Meftah Bushehri's case is being reviewed and that he is not allowed to leave Iran.
Iranian officials have not commented on the case.
The Iranian Revolution
Iranians demonstrate in Tehran on February 10, 1979, shortly after the return to Iran of Ayatollah Ruhollah Khomeini (epa)
THE ISLAMIC REPUBLIC: Iran's 1979 revolution ended 2,500 years of monarchy and established the world's first modern theocracy. In February 2004, on the 25th anniversary of that event, RFE/RL produced a special report on how the ensuing years have measured up to the expectations of those times.
"I had been freed from jail in those days, and I hoped that the [revolutionary] forces would bring democracy and progress for the country, despite the religious leadership that caused some doubts, I hoped that the press would be free, the books would be published without censorship, [political] parties, associations and civil society organizations would be formed, and I hoped that I would be able to write freely. In fact, in these 25 years, I have not seen anything but the death and silencing of those beautiful hopes and dreams," Faraj Sarkouhi, an exiled writer and journalist, told RFE/RL....(more)
ARCHIVE
RFE/RL's reporting on Iran.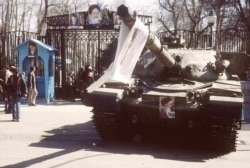 A tank bearing a portrait of Ayatollah Ruhollah Khomeini takes up a position in Tehran on February 12, 1979 (epa)