China's government-run Xinhua news agency reported today that Chinese State Councilor Tang Jiaxuan relayed that message to Iranian chief nuclear negotiator Ali Larijani during talks in Beijing on January 4.
Permanent UN Security Council member China voted along with the rest of the Security Council in December to impose sanctions on Iran for refusing to halt uranium enrichment.
Former Iranian nuclear negotiator, Hussein Musavian, called on January 4 for renewed diplomacy in the nuclear standoff.
(AP)
Iran And China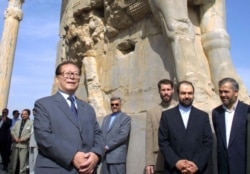 Chinese President Jiang Zemin visiting the ancient Persian capital of Persepolis in April 2002 (epa)


TWO REEMERGING CULTURES: At a joint RFE/RL-Radio Free Asia briefing at RFE/RL's Washington, D.C., office on November 9, John Calabrese -- scholar in residence at the Middle East Institute who teaches foreign policy at American University -- discussed the growing ties between China and Iran in the context of China's economic boom and its overall relations with the Middle East. He also looked at potential sore points in the two countries' bilateral relations.
LISTEN
Listen to the complete discussion (about 90 minutes):

Real Audio
Windows Media
RELATED ARTICLES
U.S. Commission Concerned About SCO's Influence In Central Asia
IMF Seeks To Recognize And Restrain Beijing's Growing Power
Beijing Makes Further Economic Inroads Into Central Asia
Tehran's New Signals Could Hint At Pressure From Moscow, Beijing
ARCHIVE
RFE/RL's English-language coverage of
China
and
Iran
.
SUBSCRIBE
For weekly news and analysis on Iran by e-mail,
subscribe to "RFE/RL Iran Report."