The International Security Assistance Force (ISAF) said in a statement that troops have seen an increased number of toy guns, some apparently given to children as gifts during the recent Muslim holiday of Eid al-Adha.
ISAF warned that some toy guns are very realistic and might be mistaken for a threat to military patrols.
There are more than 40,000 foreign troops operating in Afghanistan, including more than 30,000 under ISAF command.
They have faced increasing criticism from Afghan local and national officials as the number of noncombatant deaths has mounted.
Reliable figures on civilian casualties are difficult to come by, but NATO spokesman said on January 3 that the alliance would endeavor to reduce the number of such deaths.
(AP, AFP)
The Afghan Insurgency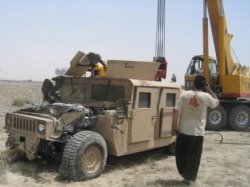 A U.S. military vehicle damaged by insurgents near Kandahar (epa)
HOMEGROWN OR IMPORTED? As attacks against Afghan and international forces continue relentlessly, RFE/RL hosted a briefing to discuss the nature of the Afghan insurgency. The discussion featured Marvin Weinbaum, professor emeritus of political science at the University of Illinois at Urbana-Champaign, and RFE/RL Afghanistan analyst Amin Tarzi.
LISTEN
Listen to the entire briefing (about 83 minutes):
Real Audio
Windows Media
ARCHIVE
RFE/RL's
coverage of Afghanistan
.
SUBSCRIBE
For weekly news and analysis on Afghanistan by e-mail,
subscribe to "RFE/RL Afghanistan Report."