Belarus Opposition Leader Accuses Traffic Police Of Harassment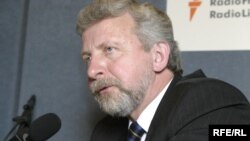 Milinkevich speaking to RFE/RL in October 2006 (RFE/RL) January 8, 2007 -- The leader of the Belarusian opposition, Alyaksandr Milinkevich, accused the country's traffic police of harassing him during a campaign trip.
The Belapan news agency reports today that police officers stopped a vehicle carrying Milinkevich six times over the last two days on a variety of pretexts.
Aside from routine identification-paper checks, the pretexts included alleged driving while intoxicated, the vehicle's purported involvement in a past traffic accident, and failure to wear seatbelts.
The stops lasted from a few minutes to several hours, including side trips to local police stations.
As a result, Milinkevich repeatedly arrived late or failed to show at pro-democracy campaign rallies.
(Belapan, dpa)
RFE/RL Belarus, Ukraine, And Moldova Report

SUBSCRIBE For weekly news and analysis on Belarus, Ukraine, and Moldova by e-mail,
subscribe to "RFE/RL Belarus, Ukraine, And Moldova Report."