Nagorno-Karabakh Talks To Resume This Month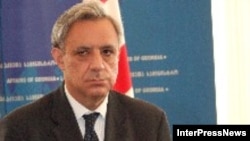 Vardan Oskanian (file photo) (InterPressNews) January 9, 2007 -- Armenia's foreign minister says he will meet with his Azerbaijani counterpart on January 23 in Moscow to renew talks on the disputed territory of Nagorno-Karabakh.
Vardan Oskanian said Armenia will continue to insist on the right to self-determination for Nagorno-Karabakh.
Azerbaijan does not recognize the independence of the predominantly ethnic Armenian territory, which has been under dispute since six-year conflict that ended with a 1994 cease-fire.
(AP)

2006 IN REVIEW: A photo gallery of key news events of 2006 from across RFE/RL's broadcast region. ...more